The Loisachtal valley and its places
As already described in the section on "The Loisach", the river flows through the three administrative counties of Garmisch-Partenkirchen, Bad Tölz-Wolfratshausen (Tölzer Land) and Weilheim-Schongau. However, the Loisachtal valley proper stretches from Kochelsee to Beurer Moos - an idyllic landscape surrounded by mountain peaks named Benediktenwand, Rabenkopf, Jochberg, Kesselberg, Herzogstand and Heimgarten.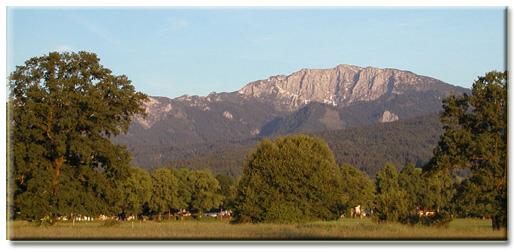 The places Kochel with its parts Ort, Pessenbach and Ried as well as Benediktbeuern and Bichl are located here. Penzberg to the northwest borders on the valley. The Loisachtal valley, accessible from Munich by railway and the motorway A95 is a popular recreational area alongside with Lake Starnberg and the Isartal valley.